"Plug & Play" Solution for Rapid Picking: SSI Mobile Robots and Shelving
To speed up logistics processes and reduce costs, partial automation options are worth considering. SSI Schaefer stands by as an advisory partner in this situation. The intralogistics specialist, offering intelligent system combinations for typical requirements in smaller and medium-sized companies, with a straightforward Plug & Play approach and at attractive prices. SSI mobile robots are a good choice for faster picking in combination with shelving systems. 
Adapting Intralogistics Structures to Dynamic Markets
Markets and customer requirements undergo continuous change, yet their dynamics have reached unprecedented levels. This is particularly noticeable in e-commerce. While more and more frequent orders are being placed, order quantities are falling – sometimes as low as a batch size of 1. Many retailers have to adapt their intralogistics structures to rapidly increasing order volumes. However, due to inadequate space utilization, the existing warehouse capacity may already be full. Other challenges include a lack of planning certainty, rising fixed costs and staff shortages.
Rapid Picking with SSI Mobile Robots and Shelving Systems
Decision-makers in logistics should consider whether partial automation could be a solution to increasingly challenging requirements. SSI SCHAEFER is available for consultation and can draw on a very broad range of products. SSI SCHAEFER's combination solution consisting of mobile robots (so-called RackBots) and shelving systems can significantly reduce picking and order throughput times while minimizing error rates. This system combination is ideal for e-commerce, can be installed quickly in existing facilities, is easy to scale up at any time and reduces logistics costs in the long term.
One Partner for All Systems
The components of SSI SCHAEFER systems match perfectly to ensure reliable functionality. "SSI SCHAEFER can handle the interface coordination; they also draw on a broad range of products, so they're never pushing one specific product. Customers appreciate having a single partner that can do all that," says Markus Külken, Vice President for Product Line Material Flow at SSI SCHAEFER. 
Streamlining Processes and Reducing Costs with Partial Automation
Companies that choose partial automation of repetitive processes with shelving systems and mobile robots benefit in many ways. The Plug & Play solution allows straightforward, cost-effective automation of storage and picking processes. The goods-to-person principle (GtP) minimizes walking distances and search effort in the warehouse while reducing physical strain on employees. This can achieve a fourfold productivity increase in picking while ensuring delivery accuracy, even during seasonal peaks. At the same time, their process costs have been reduced and failure risks minimized. This approach also achieves optimal utilization of existing space. The systems are integrated precisely into existing buildings, resulting in an 80 percent increase in storage density.
The Perfect Combination of Shelving Systems and SSI Mobile Robots
Mobile robots make efficient human-machine cooperation possible. They have up to eight buffer stations, are designed for around 35 to 45 double cycles per hour and cover warehouse areas with a maximum height of just under 10 meters. Both the number of robots and the design of the shelving system can be customized and adapted as needed. Thanks to the frame system with a plug-in design, the shelving systems can be assembled quickly and easily. Reusable containers from SSI SCHAEFER or cartons are suitable for storage on and retrieval from the rack.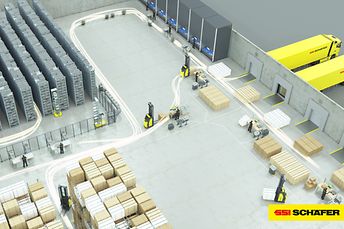 More Options for Partial Automation
Additional process sections can also be automated as needed. For example, a conveying section with connected workstations can be integrated for greater picking performance, as can the space-saving SSI LOGIMAT® vertical lift module in combination with the WEASEL® automated guided vehicle system for rapid replenishment. Mobile robot ports can also be used, which make bin storage and retrieval faster. This approach allows incremental automation of various processes – from goods registration to goods staging in shipping – for the company's long-term intralogistics strategy.