Combined, semi-automatic system solution - for more efficient picking of small parts on limited space
Cost optimization thanks to reliable storage and picking processes through ergonomic system solutions with WEASEL® LITE and SSI LOGIMAT®
Fluctuating demand and a shortage of skilled workers pose mounting challenges for many companies. In order to translate multi-layered requirements into efficient logistics structures, companies need flexible logistics systems that work together perfectly. The objectives of future-proof intralogistics can be met through a coordinated interaction of one or more SSI LOGIMAT® vertical lift modules with WEASEL® Lite automated guided vehicles from SSI SCHAEFER. Storage density is increased, technical performance and picking quality improve and downtimes during operation caused by slow material supply or incorrectly supplied parts are almost excluded.
Identifying potential for improvement and solving challenges of small load carrier handling
The intralogistics sector offers many cost-saving opportunities. Reducing costs while increasing process reliability with the shortest possible cycle times has become a task which is almost impossible to achieve in conventional, manual warehouses. Standardized and repetitive processes are particularly suitable for automation. Employees can then handle these processes without extensive training or lengthy instructions. At the same time, the use of vertical lift modules for the picking of small parts, which are supplied with the required materials by automated guided vehicles, allows for process transparency and efficiency on a new level. This benefits companies directly:
50% time savings during entire picking

Increase in availability speed by 90%

120 m² storage space on a footprint of 11 m² possible

Constantly timed flow of goods

Improved workload

Reduction of buffered stock

Error reduction
Another aspect companies increasingly focus on is the creation of an ergonomic work environment. By using modern warehouse solutions, employees are relieved of monotonous and health-damaging lifting activities and engage in an attractive, system-supported environment, in which they are guided safely through the tasks assigned to them.
WEASEL® Lite – ensures constant flow of goods
In combination with the WEASEL® Lite automated guided vehicle for small load carriers, SSI SCHAEFER's SSI LOGIMAT® storage and picking solution, which is specifically designed for production and intralogistics, offers an integrated end-to-end solution to meet the ever-increasing demands of dynamic markets. The WEASEL® Lite AGV ensures reliable and safe transport of goods in bins, cartons or on trays with a total weight of up to 35 kg. It boasts quick and easy integration – the period from ordering to commissioning is usually only about one to two weeks within Germany – and guarantees a fully automated material flow from goods-in, to picking, to shipping and provision at workstations.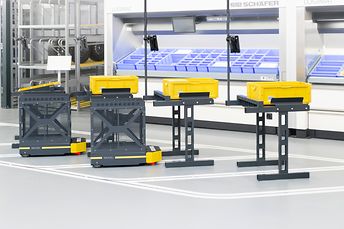 All vehicles use Bluetooth to communicate with each other. A complex IT landscape is thus not necessary. Users can configure the WEASEL® Lite on their own and put it into operation with a plug-and-play approach. No particular IT knowledge or specific technical know-how is required. In addition, the number of vehicles in a WEASEL® Lite fleet can be quickly increased at any time as a company's throughput demand increases in parallel with its growth. If the challenges become more complex, the vehicles can be upgraded to the WEASEL® Classic version, which is controlled by a fleet controller via Wi-Fi. This provides further efficiency and interface benefits for the operator.
SSI LOGIMAT® – intuitive and ergonomic picking
The vertical lift module SSI LOGIMAT® is another storage and picking solution that grows with the expansion of a company and the respective new challenges. As the available space volume is fully utilized in terms of height, operators save space without having to reduce stock. With an assumed unit height of 7.5 m and a goods height of 220 mm, 48 trays will fit into the vertical lift module SSI LOGIMAT®. With a tray size of 3025 x 815 mm, this corresponds to a storage area of around 120 m² on 11 m² of floor space. A clear visual interface provides better performance and picking safety. The LOGIPOINTER indicates the correct storage position via Pick by Light so that the operator can store and retrieve items accurately and time efficiently. During retrieval, an LED display (Put to Light) at the transfer station assists in ensuring the correct item assignment to the different orders. The LMB containers, specifically designed for the SSI LOGIMAT®, can be individually adapted to the item structure by using compartment separators, making the best possible use of the tray depth and width. The trays are accessed from above. To further improve ergonomics at the workstation, operators can adjust the inclination of the tray (LOGITILT) according to their body size.
A focus on customer and employee satisfaction
Combining the WEASEL® Lite and SSI LOGIMAT® into a system solution allows continuous processing of the basic loads that arise in everyday storage, retrieval and picking operations. At peak times, additional personnel can be brought in as needed.
Markus Külken, Vice President for Product Line Material Flow, Products & Equipment at SSI SCHAEFER, points out another quality issue: "Especially in e-commerce, every order directly impacts someone's impression. No company can afford dissatisfied customers in the long run. Correcting errors internally incurs huge costs. Therefore, the priority should be to prevent them from the outset with a system-guided approach." That only increases the importance of intelligible dialogs and displays with images, colors and numbers to eliminate language barriers and prevent errors. "The light guidance on the vertical lift modules also makes it possible to combine orders into batch orders, further increasing picking performance. It's only necessary to approach the vertical lift module once when picking one item for multiple orders in a batch order," emphasizes Udo Neumann, Senior Business Consultant at SSI SCHAEFER. "Employees don't need any special know-how. Instead, the WAMAS® LOGIMAT logistics software handles this task virtually, ensuring continuous process optimization based on current demands."
Diverse customer benefits to secure competitiveness
Installing SSI LOGIMAT® vertical lift modules requires only minor adjustments. The WEASEL® Lite AGV requires no structural alterations either; a track is simply glued to the floor of the hall and can be modified quickly and easily at any time. Storage areas that create clutter can be eliminated; the approach frees up employees who can be deployed more productively elsewhere; and the unnecessary movement of parts between functional areas that forklifts cause is eliminated. Shorter walking distances and better ergonomics in the operating environment also lead to higher employee satisfaction and motivation. Pick rates increase, and unnecessary transport is eliminated. Linking, which enables a continuous, clearly timed material flow, can significantly reduce buffer levels and ensure consistent utilization of individual work areas. This semi-automated solution is especially attractive to small and medium-sized companies that want to reorganize their processes through a manageable investment. Digitalization and automation of small parts handling processes increase efficiency, lower costs, reduce repetitive activities and help guarantee and sustain customer competitiveness.
Powerful solution packages from a single source
With this combined application, SSI SCHAEFER offers a safe, proven and tailor-made solution package with interfaces and product components designed for mutual compatibility from a single source. This saves time, provides investment security and prevents unplanned follow-up costs. Customers do not have to coordinate and implement the services and products of different suppliers, which may not be perfectly compatible. Several different interfaces complicate troubleshooting if errors occur during operation. In contrast, with our proven solution package, companies can focus on their core business and have confidence from the outset that all components are perfectly attuned to each other and will interact seamlessly and intelligently. Also maintenance and support are provided by a single source at SSI SCHAEFER. Furthermore, small and medium-sized companies benefit from SSI SCHAEFER experts' extensive experience implementing numerous large, complex projects.