Total system solution on a small footprint for continuous flow of goods 24/7/365
Even More Efficient Together – Mobile Racks in Combination with Automated Guided Vehicles to Save Space and Optimize Material Flow
When existing warehouses need to be upgraded without the option of expansion, or new buildings require smaller dimensions due to high property prices or other limiting factors, more and more companies opt to use mobile racks in combination with automated guided vehicles. This solution package from SSI SCHAEFER can be easily integrated into existing warehouse layouts, saves space, enables a constant material flow around the clock and helps reduce operating costs in the long run. Customers become less reliant on staff, and the error rate tends towards zero.
Identifying Potential for Improvement and Meeting the Challenges of Large Load Carrier Handling
Continuing cost pressure is forcing more and more companies to put the organization of their intralogistics processes to the test. Personnel expenses are high, at the same time there is a shortage in qualified staff who have to meet increasingly complex requirements in production, installation and warehouse logistics. In addition, processes can often no longer be ideally coordinated due to historically grown structures. This results in material supply delays and picking performance declines, which in turn may have a negative impact on on-time delivery and customer satisfaction. Moreover, operators have to expand their capacities on a limited footprint. However, it is often obvious that the height of a building is not optimally used. Volume-optimized mobile racking (MR) systems accessed by automated guided vehicles (AGV) save space while increasing storage density and achieve maximum process reliability and flexibility, as well as efficient, staff-independent transport of goods. This solution offers a simple approach to automation at a moderate price and can be extended at any time if required. Companies can choose between AGVs designed for narrow aisles or wide aisles and see the benefit immediately:
40% less space required than with stationary rack lines

Only one operating aisle to access stored goods

Storage capacity increased by more than 90%

85% more storage quantity on the same footprint

Constantly timed flow of goods

Improved utilization

Reduction of buffered stock

Error reduction
Mobile Racks – More Storage on a Smaller Footprint
Both modules are part of SSI SCHAEFER's extensive, modular range of products for holistic optimization of material flows among various areas. For example, a mobile racking system for pallets requires approximately 40% less space than stationary rack lines, so it is the ideal solution for creating more storage space on a limited footprint. The increase of capacity in vertical direction enables companies to increase their storage capacity by approx. 85% while having the same footprint. Search processes and walking times are eliminated, and previously required traffic areas are reduced. Therefore, mobile racking systems are ideal for efficient storage of pallets with different SKUs and a comparably low picking frequency on a small footprint. Further advantages, especially concerning the responsiveness in case of changing framework conditions, are achieved by combining a mobile racking system with one or several automated guided vehicles.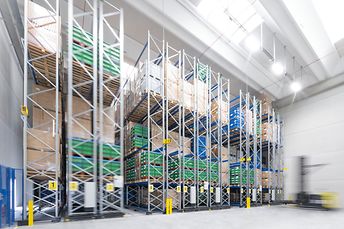 AGVs – Always Reliable, Always on Track
Automated guided vehicles (AGVs) for large load carriers, such as SSI Heavy Load AGVs, allow seamless integration, require less space than conventional conveying systems and pay for themselves in next to no time. They enable continuous and constant material flow and reduce the dependence on staff and expensive forklift equipment. The error rate is minimized as well, leading to a better delivery quality. In combination with a mobile racking system, an automated guided vehicle (AGV) can handle 11 to 14 double cycles per hour. If performance demands increase, the number of aisles and AGVs can be increased, or storage and retrieval steps decoupled to take advantage of less busy periods. The WAMAS® logistics software with an integrated fleet controller offers performance-oriented control. This control system can also be easily connected to superordinate host systems of the customer via a standardized interface. Optionally, WAMAS® Lighthouse can also be used for visualization purposes.
Increased Efficiency and Supply Reliability
Whether it's the automotive sector, food & beverage, e-commerce or productive industry – the demands on a constant availability of goods and/or materials is constantly rising. To prevent supply bottlenecks, the trend is for companies to revert to insourcing for process steps that had been outsourced to external service providers. They are thus able to control all their processes, obtain planning security by linking all process steps and improve their responsiveness. Thanks to software such as WAMAS® WMS/MFS or SAP EWM, they also benefit from greater stock and material flow transparency. Transparency also is essential for controlling. While it is almost impossible to measure the performance of forklift truck drivers, the use of mobile racking systems which are supplied by automated guided vehicles generates key figures that provide explicit information on system performance. In this way, the degree of supply reliability to be provided can also be clearly represented, a criterion which is relevant for (potential) customers and creditors, such as banks.
Better Utilization and a Short Payback Period
"For increasing efficiency and optimizing costs in the medium term, an interlinked overall system has the advantage that it can achieve smooth 24/7 operation," says David Eisenhut, Director of Business Development for Dynamic Systems, Products & Equipment at SSI SCHAEFER. "The warehouse can, for example, be reorganized overnight and prepared for goods-in and goods-out on the following day. Moreover, existing buildings can be automated with high density, and the material flow is stabilized." Markus Külken, Vice President of Product Line Material Flow, Products & Equipment at SSI SCHAEFER, adds: "Operators benefit from completely autonomous storage, retrieval and transport processes with reliable timing. They can expand without being dependent on staff. They no longer have to pay for damage to warehouse equipment caused by forklifts or for the absence of employees. Shorter search times and walking distances, as well as a minimal return rate, also help to reduce costs in the long term."
Diverse customer benefits to secure competitiveness
The mobile racking systems as well as the automated guided vehicles by SSI SCHAEFER are designed as a modular system and can be easily retrofitted. In combination, they decisively contribute to the optimization of storage and transport processes and help to map these processes from a business management perspective. This solution is particularly suitable for so-called slow movers or B/C items, which are not accessed frequently. Category A goods can be stored in static racks or in even higher performance areas, such as the SSI Orbiter® pallet shuttle system. Small and medium-sized enterprises in particular benefit from the high storage density that mobile racking systems can achieve, freeing up space that can be used for other purposes. You reduce staff, the system works around the clock if required, and you can respond flexibly and quickly to new customer requirements. If the requirements increase, the system grows with them. The initial implementation takes about 10 months. After delivery, commissioning is completed within a maximum of three weeks and the AGV(s) is/are immediately ready for operation.
Powerful solution packages from a single source
With this combined application, SSI SCHAEFER offers a safe, proven and tailor-made solution package with interfaces and product components designed for mutual compatibility from a single source. It saves time, ensures investment security and prevents unplanned follow-up costs. Customers do not have to coordinate and implement the services and products of different suppliers, which may not be perfectly compatible. Several different interfaces complicate troubleshooting if errors occur during operation. In contrast, with our proven solution package, companies can focus on their core business and have confidence from the outset that all components are perfectly attuned to each other and will interact seamlessly and intelligently. Also maintenance and support are provided by a single source at SSI SCHAEFER. Furthermore, small and medium-sized companies benefit from our extensive experience gained by implementing numerous large and complex projects.