Predictive Maintenance for Sustainable Intralogistics
How Digitalization Revolutionizes Customer Service and Guarantees Sustainability
Against the backdrop of growing market demands, Elie Zita, EVP Customer Services at SSI SCHAEFER, is aware of the increasingly complex requirements for operators of logistics systems. As an expert, he has been involved in finding innovative approaches to solutions in the field of Customer Service & Support (CSS) for many years. In the following interview, he provides an overview of how digitalization has revolutionized customer service, guaranteeing maximized system availability and sustainability as a result of customized, predictive maintenance.
Mr. Zita, what are the challenges that operators of logistics systems face today and how do they overcome them?
The boom of online commerce (e-commerce) and the corresponding high expectations among consumers relating to anytime-anywhere availability represents the most formative challenge for logistics operators. Products must be available by the requested date and with shortest delivery times or deliveries to "pick-up points," including free return or convenient return to a "brick & mortar store" – this is a must in order to be able to survive in today's market. Translated into terms of logistics and internal material flows of a company, of course, this means almost 100% delivery capability and loyalty, shortest cycle times and transparency in the warehouse and across the supply chain. With this in mind, operators are increasingly investing in automated logistics systems, from which they expect above all an increase in capacity, productivity and quality in order to be able to master the requirements as best as possible.
What effects does this development have on customer service?
High availability of these technical systems is crucial for success. This is why service and maintenance are so important. In order to keep downtimes at a minimum, operators are increasingly agreeing to guaranteed system availability in their service contracts. In this regard, relying solely on the fast supply of spare parts and short customer service response times is no longer sufficient. There is an increasing need for maintenance with maintenance intervals that are individually customized to the use and even include permanent system monitoring and predictive maintenance of key components.
What is essential regarding a maintenance tailored towards system use and effective system monitoring?
Digitalization is the most fitting keyword, here as well as in many other areas. Our personal lives are undergoing vast changes. Permanent networking and global communication lead to huge data pools. Inventive minds found that such data could be well utilized and developed data-driven business models. Recent years saw a digital revolution in industrial circles as well, which is still progressing. At SSI SCHAEFER, we see these developments as an opportunity. We drive them forward and use new technologies to develop innovative and cost-effective services. The key lies in identifying which data is important and to then preparing this data for a potential analysis. The manner in which the data is transmitted involves various challenges.
How is this translated into practice? And how are these new technologies reflected in the Customer Service & Support at SSI SCHAEFER?
Predictive service is the future. This equates to a shift from reactive service, during which components are only exchanged or repaired as needed, to preventive service. The intention is to prevent system downtimes as much as possible. For example, preventive maintenance measures might include replacing wear parts at predefined intervals. To define these regular intervals, large and comprehensive amounts of data must be thoroughly analyzed. To this end, we use a wide range of different solutions, such as thermography and vibration analysis based on the data collected. Yet, Customer Service & Support 4.0 goes even beyond that: Predictive maintenance allows to implement a sustainable maintenance strategy with service intervals that are even more predictable and customizable.
How does predictive maintenance work and how does it contribute to a sustainable maintenance strategy?
A key factor to predictive maintenance is that maintenance is not performed until it is actually needed. Forecasts relating to individually defined maintenance intervals can be made by recording, analyzing and evaluating system-specific data in real time. If the recorded data differs from the defined threshold values, the system informs the service technician. The technician can then use this information to derive the necessary preventive and/or corrective maintenance measures.
Thus, predictive maintenance eliminates unnecessary replacement of perfectly working products and components, reduces the number of service calls and makes a critical contribution towards conserving resources.
And how will these new technologies continue to develop in the future?
The objective is certainly an increased integration of intelligent, self-learning algorithms. We at SSI SCHAEFER have the relevant concepts available and are already working on them - both in the area of system technology as well as in our effort to continually expand the Customer Service and Support.
Thank you very much for the interview - we are excited to see what the future brings.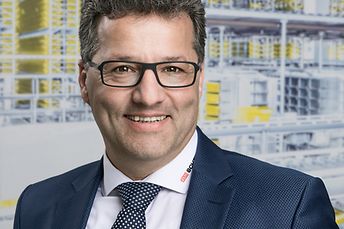 Caption:
Elie Zita, EVP Customer Services at SSI SCHAEFER, is an expert in all things related to customer service and its potential for sustainability approaches.
Sustainable Solutions
Learn more about sustainable concepts