Efficient use of storage space
How we deal with lack of space, high energy costs and rising property values with an individual and adaptable rack system
"The appropriate rack system helps make optimum use of the building in every dimension."
Mr. Frank Matysiak, Head of System Planning at SSI Schaefer, explains how the appropriate rack solution can solve typical warehouse challenges, and how SSI Schaefer provides customers with individual and future-oriented support in finding the most suitable racking system.
What challenges do companies face in the warehouse?
Over the years, the number of items in a warehouse usually grows and capacity becomes limited. Due to rising property values or unavailable expansion options, building a new warehouse is often out of question. Instead, existing storage space needs to be examined. From an economic point of view, it must be determined whether footprint and room height have been optimized. If not, there is a range of options to increase storage space and ensure the company is prepared for future expansion. Another challenge is how to efficiently use existing staff to increase turnover times, for example in order picking of small parts.
What decision criteria can help when choosing an appropriate storage solution?
First, the available space in the current warehouse is examined – is the existing building height efficiently used for storage? You also need to consider the type of stored goods, whether you need large load carriers (e.g. pallets) or a solution for small parts, as well as the turnover speed and frequency. If necessary, seasonal peaks have to be taken into account and a corresponding, flexible solution has to be found. Changes to items in stock in terms of size and volume must also be considered in order to find the most suitable storage solution for the customer, one which is also designed for long-term use.
Which storage solutions can effectively overcome the challenges described above?
The appropriate rack system helps make optimum use of the building in every dimension. Making efficient use of the storage space provides a warehouse operator with numerous benefits: gaining space through additional footprint, cost savings (e.g. in terms of energy, possible rent or property prices, combined with the costs for a new building), and time savings thanks to logical warehouse organization.
Mobile rack systems are a suitable storage solution for large load carriers. These systems use the existing space more efficiently than conventional static pallet racks and can increase the storage volume by up to 100% (see charts). This is particularly useful in deep-freeze warehouses, where mobile racks help to use the air-conditioned space more efficiently. Almost twice the quantity of goods can be stored in the same footprint, while valuable energy for air-conditioning is saved. Even more energy can be saved using various functions and options in our mobile rack solutions. For instance, the pre-control for the lighting ensures only lamps for the open aisle are switched on. The options for picking position, remote control, and automatic forklift detection help accelerate system operation and make it easier for employees to work with the rack system. When connected with a warehouse management system or ERP system and corresponding storage strategies, the mobile rack system increases efficiency even further.
Platforms and multi-story systems provide an intelligent solution for creating additional storage space without having to make structural changes to the existing warehouse. They enable efficient personnel deployment while simultaneously increasing picking performance, and can easily be adapted to suit customer requirements.
Static rack systems work either as part of a multi-story system or individually as an adaptable solution. A wide range of accessories is available for individual modifications, which can also be added at a later stage to account for varying goods and quantities, for example. Individual storage can be changed easily, guaranteeing high storage density and efficient picking processes at all times.
Pallet racks in conventional arrangement: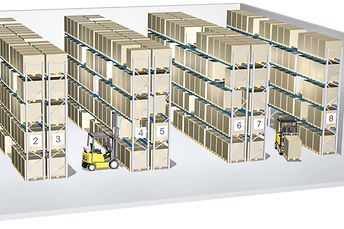 Mobile racks for optimized use of space: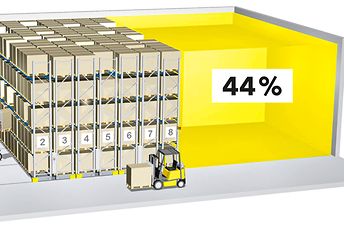 Mobile racks for higher storage capacity requirements: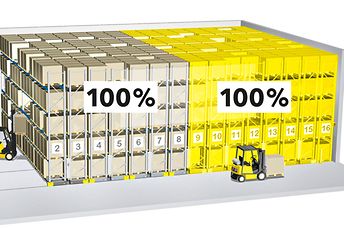 Related Topics