Logistics software: Flexibility in the Warehouse
Striking the right balance between Standardization and Individuality
In an age of increasing digitalization and growing e-commerce, the challenges of volatile markets and unforeseeable environmental and societal events – along with fluctuations in demand that are virtually impossible to plan for – make flexibility a vital top priority. We all aim for individuality in both our personal lives and in business. However, to gain efficiencies in material handling (with the associated software), one must look for the right balance of custom flexibility and standardization.
Every year, smartphone manufacturers launch the latest generations of products on the market. All phones of the same model leave the factory in a completely identical state. However, as soon as the customer receives the cell phone, switches it on for the first time, and makes the basic settings, the process of customization begins. Apps are installed and notification settings are selected, thereby tailoring the device to its individual user and intended use. From this moment on, no device resembles another regarding its configuration.
Within the material handling industry one of the basic prerequisites for providing modern intralogistics is the ability to customize the value-added services that today's warehouses need to offer to operators and, in some cases, to customers. Essentially, these customization capabilities are nothing new. However, in light of competition, companies also have to consider investment costs and if customization is too costly, it is not viable.
How then do we go about resolving the tensions between flexibility, quality, and costs?
Flexibility Achieved by Combining Modularity with Standardization
The smartphone industry is a good example of how it can be done, which to a large degree, smartphone hardware is standardized. Although there are differences between the respective versions, many of the same components are used across multiple models in terms of the processors, displays, and other features installed. But to create a customized user experience, manufacturers are now starting to supply different software add-ins together with the device itself.
Within the material handling industry, software is likewise becoming increasingly important alongside the hardware. In addition to basic technical performance, just-in-time call-off capability is vital. This demands a holistic view across all levels of the warehouse. One of the biggest challenges is keeping a storage system fully flexible without allowing it to get out of control by entering an undefined state. The warehouse must always be able to respond to current requirements and each component must function reliably. This results in the following flexibility structure, with quality and stability also needing to be achieved at the same time.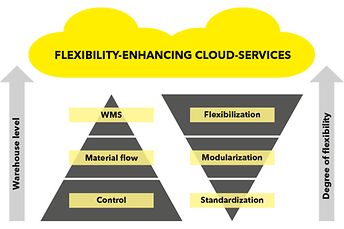 At the control level, maximum efficiency is crucial. Once they have been sent, control commands need to be implemented as time-efficiently as possible. No time must be lost as a result of response times or other delays. Data has to be exchanged efficiently using a standardized format that is comprehensible to the higher-level systems so that the information can be processed in near real time. With a view to achieving these aims, it is necessary to adopt an appropriate form of standardization that creates a reliable foundation for the superordinate levels. Ultimately, standards speed up the project while ensuring greater security and cost-effectiveness during maintenance and operation.
The material flow is modular. Components are able to co-operate and are work with one another. Modules such as shuttle aisles perform the subtasks expected of them.
The WMS level (warehouse management system level) co-ordinates the warehouse with its vast array of flexible functions. The wide range of parameters allows the warehouse of the respective customer to be tailored to individual requirements. However, there is an increasing need for these services to be extended beyond the confines of local intelligence. This possibility opens up new approaches that rely on intelligent solutions (including AI supported ones) and cannot be accommodated by the locally available computing power.
Flexibility calls for reliable framework conditions. If the components (control, material flow, and WMS) and the installed infrastructure provide these, the way is clear for customizable warehouse operations. However, to make even greater use of the potential of flexibility, these services need to be extended beyond the confines of local intelligence. That is where new approaches that rely on intelligent solutions – including those supported by AI – come into play in the form of flexibility-enhancing cloud services. In other words: cloud services that are capable of outperforming the locally available computing power.
With its extensive range of WAMAS® and SAP EWM software, SSI SCHAEFER covers all kinds of processes, from warehouse to material flow management. At the same time, our software experts devise customized solutions to optimize customer productivity and efficiency. This way we make it possible to manage the warehouse actively by measuring and assessing processes with the help of KPIs.
Author: Markus Klug, Data Science & Simulation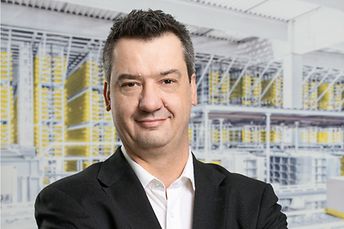 More topics