WCS: Fulfillment Software for the Automated Warehouse
Successful fulfillment has become a multidimensional and complex service within the supply chain. Automated, highly dynamic warehouses in particular require sophisticated order fulfillment software solutions: such as those offered by the WAMAS® Warehouse Control System (WCS). Modern WCS systems are the first choice in automated warehouses across all industries. They connect both people and performance modules and help align order fulfillment efficiently.
What are the key functionalities of a WCS?
Warehouse Control System is a hybrid software solution in which a material flow system (MFS) performs additional functions of a classic warehouse management system (WMS). It therefore combines performance functionalities that were traditionally handled by two different software systems. Having this broad spectrum covered in just one system is a major advantage. It helps to master the growing complexity in the warehouse.
Functional spectrum at a glance:
Warehouse optimization

Intelligent order processing

Optimization of order picking

Intelligent route planning

Management of the flow of goods

Intelligent routing

Real-time resource management
What are the key benefits of a WCS?
Speed and agility: the system is able to respond to events in real time. If conditions change within the process chain, the system reprioritizes operations immediately. In this way, the system ensures that the right items are transported to the right place, with optimal performance consistently.
Productivity gains & cost efficiency: Warehouse control systems deliver productivity gains in highly automated facilities. Up to 50% of variable costs incurred in a typical warehouse are associated with order fulfillment. This means that any efficiency or productivity gains that result from a WCS will directly increase profits. Warehouse control software is able to make dynamic decisions during order fulfillment to accomplish exactly that.
What is the difference between WES and WCS?
In North America, the term WES (Warehouse Execution System) is commonly used to describe a system equivalent to the European WCS. At the same time, in the North American market, the term WCS is often used to describe what Europeans call MFS.
Worldwide software expertise
As a leading intralogistics partner, SSI SCHAEFER offers both automated systems and state-of-the-art software, such as WAMAS® WCS. Users are provided with a partner that seamlessly combines hardware & software with global know-how. The WAMAS® portfolio provides users with advanced modular software solutions. This enables users to achieve the best performance in their market today and in the future.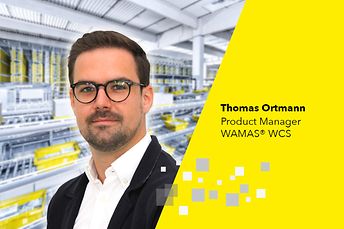 About the author:
Thomas Ortmann studied business informatics and works as a software product manager for WAMAS® WCS. In 2020, he started as IT project manager at SSI SCHAEFER and was responsible for release management in the WAMAS® MFS area. He worked in numerous customer projects in the Healthcare & Cosmetics sector. His know-how in process management and software engineering are important pillars for his work at SSI SCHAEFER.
More information about WAMAS® can be found here https://www.ssi-schaefer.com/en-de/software-solutions