Kastner & Öhler Opts for SSI SCHAEFER for Extending their Central Warehouse
Kastner & Öhler, one of the largest fashion and sports providers in Austria, has commissioned SSI SCHAEFER with equipping its central warehouse in Graz. The flexibly expandable solution to be implemented will facilitate shorter delivery times while enabling considerable efficiency increases for order processing for the growing online business.
The family business Kastner & Öhler was founded in 1873, which gained international recognition in the fashion world thanks to innovation and quality. Under the brand name Gigasport, Kastner & Öhler is also a leading sports provider. It is the largest Austrian owned fashion and sports company, with both its headquarters and a central warehouse located in Graz. The company operates a total of 33 locations in Styria, Carinthia, Burgenland, and Upper Austria as well as two outlets in Graz. In the Kastner & Öhler and Gigasport online shop, customers have access to a wide range of products. The new shipping solution will be able to process more than 10,000 shipments per day.
Large online providers have opted for products and solutions by SSI SCHAEFER for years. For the Kastner & Öhler central warehouse in Graz, modern intralogistics will ensure efficient processing of shipments for the e-commerce business. Scaling up for a future implementation can be easily done too, thanks to the already considered extension stages.
The decision to select SSI SCHAEFER was strengthened by the fact that the intralogistics expert is able to supply the project with required solution components from its location north of Graz. Regarding the logistics concept itself, efficiency and flexibility were just as convincing as was the ergonomics factor, which played an essential role in the design of shipping work stations.
Completion and commissioning of the project is scheduled for mid-October this year – just in time for Black Friday and holiday shopping. This helps achieve short delivery times even in case of higher shipping volumes for a positive customer experience.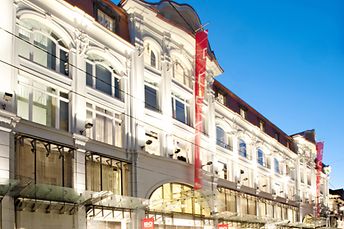 Kastner & Öhler © Bernd-Kammerer
The Kastner & Öhler headquarter is located in the middle of the old town of Graz.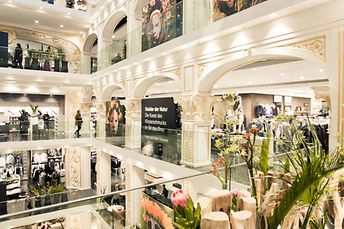 Kastner & Öhler © Lupi-Spuma
The location in the Styrian capital is one of the most beautiful fashion houses in Austria.