Returns Handling in Fashion Logistics
The Shortest Way Back to the Customer via Automation
The e-commerce sector continues to grow exponentially and promises rapidly increasing sales. However, at the same time, the number of returns is constantly rising, which puts a strain on margins. The fashion industry suffers from this development, as it wants its products to be available for the customer as quickly as possible to prevent loss of value in the seasonal business. Automation is an effective solution of meeting this ideal.
Online shoppers like to use cost-free returns, especially in the fashion segment. Here, more than 40 percent of ordered goods are returned to the supplier. This can be a hoodie that turns out to be slightly smaller than expected. However, the proportion of such single-piece orders is rather low. In most cases, for example, a favorite T-shirt or a pair of shoes is ordered in different colors and sizes so that the customer can make a selection that fits perfectly. The rest is returned.
Returns handling in fashion retail
In order to remain competitive in a highly combative market and in the face of increasingly volatile online customers, there is practically no alternative to offering free returns. Generous time limits for returning goods are also expected, as they are part of the business model as a service. When you consider that several hundred million parcels are returned every year, it becomes clear what a dilemma online retailers face. After all, they don't just bear the shipping costs. Reprocessing via re-stocking and picking is also extremely costly using conventional methods, both in terms of time and money. Consequently, returns also put a strain on margins.
Automation as the key to greater efficiency even at peak times
Against this background, suppliers are faced with the question of how returns handling can be organized more efficiently and quickly so that process costs can be reduced. Major challenges emerge especially during the peak season, such as Cyber Days and the following Christmas business. The months of November, December and January not only generate a lion's share of annual sales, but the returns rate also reaches staggering proportions. Against this backdrop, automated warehousing and order picking systems come into focus, that guarantee a significantly increased and error-free performance, are also scalable and can reduce the physical workload of the employees.
Ready for dispatch again as quickly as possible after reprocessing
With the SSI Carrier, SSI SCHAEFER has developed a customized solution for the high demands of fashion logistics. The system can handle both store deliveries and smaller e-commerce orders, including returns handling, quickly and highly efficiently. The innovative modular pouch sorter for hanging and flat goods weighing up to 3 kilograms combines five functions in a single system: transporting, accumulating, buffering, sorting to customer orders, and sequencing according to defined rules - all at a particularly high throughput rate of several thousand to tens of thousands load carriers per hour. The heart of the system is an internal roller adapter that picks up and identifies load carriers such as bags or hangers and transports them reliably and gently. Returned goods are checked - for example, at returns processing stations specially designed by SSI SCHAEFER - and then transferred directly to a dynamic buffer. Thus, it is immediately back in the system and can be used for a follow-up order at any time without intermediate picking.
Compact, expandable and can be combined in many ways
The SSI Carrier requires little space, enables maximum storage density, and can be flexibly expanded at any time as order volumes grow. Another advantage is that the pouch sorter is always an ideal addition. For example, it can be combined with shelving and pallet racks as well as infeed and outfeed conveyor lines. Using the scalable and standardized WAMAS® logistics software, all processes can be managed and controlled considering the daily order load as well as the available capacities and resources, to ensure efficient returns management.
Operational basis for optimizing the customer journey
High-performance logistics is crucial for generating long-term competitive advantages and operating economically - also and especially in the fast-moving fashion market. Direct sellers, retailers and fulfillment service providers benefit from this in equal measure. With the right intralogistics partner at your side, who supplies the right products and even the software from a single source, you create the conditions for an all-round successful customer journey.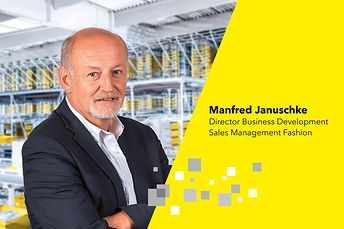 About the author:
Manfred Januschke is a mechanical engineer and has been with SSI SCHAEFER since 1999. From 2001 to 2013, he was responsible for Sales for the USA, UK and Scandinavian markets, and then for the entire automation sector in the North American region. In his current position as Director Business Development, Manfred Januschke is responsible for the establishment and further development of the Fashion market sector, as well as for the market launch of innovative and customer-oriented solutions for Fashion customers. For the textile and fashion industry, SSI SCHAEFER implements efficient warehouse and order fulfillment systems for store delivery, e-commerce and omnichannel distribution.