Optimal Spare Parts Storage Solution for Swedish Agro Machinery
Swedish Agro Machinery AB, distributor and importer of farming machinery has decided to centralise its spare parts storage system and equip the new warehouse of 3,700 square metres with SSI SCHAEFER's logistics solutions. Pallet and cantilever racks, shelves and SSI LOGIMAT® Vertical Lift Modules are parts of the solution. The result: a compact warehouse with up to 23,000 different parts and an overnight delivery.

In 2016, Swedish Agro Machinery took over the import of Claas products, a manufacturer of agricultural machinery, to Sweden and Norway. The new updated organisational structure needed a new facility to store spare parts efficiently. They chose to put it in Skåne Skurup, in the middle of one of Sweden's most fertile agricultural areas, also near Denmark and the centre of the European continent. The challenge was, that they need to store parts in very different ways due to the various dimensions in the new warehouse. Swedish Agro already had realised some projects with SSI SCHAEFER in the past, so that is why they have been involved as a partner in the project since the very beginning.

"We were looking for one supplier for the overall system. We wanted to partner with the manufacturer to ensure the best quality of the equipment and total control over its production. That is why SSI SCHAEFER was selected as a general contractor for the project."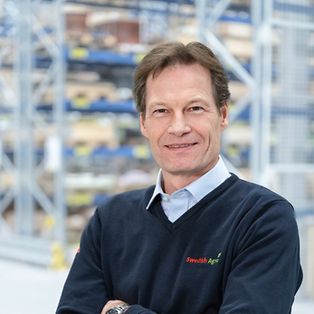 Local presence is crucial for Swedish Agro. When an agricultural machine is on service, there should be no disruption, especially during the high season. That is why the company holds 25 workshops in the network with the extra focus on agricultural areas in Skåne, Västra Götaland, Östergötland and Uppland. Swedish Agro's commitment is to deliver the ordered spare parts for the next day if they are not in place locally.
Material flow supported by the new solution
The goods are delivered by trucks, unpacked at the work stations manually, sorted according to type and size and brought to different storage systems. Spare parts for agricultural machinery vary greatly in size, share and weight. It's everything from single bolts to input screws in the ten-metre class.
In fact, Swedish Agro needed ten different ways of storing. This includes long-span and cantilever racks for lying goods and compartments for storing standing moldings. This is very effective as some of the spare parts can be quite large. To utilise also the vertical space optimally, a narrow aisle has been set up with shelves. Smaller spare parts are stored in two SSI LOGIMAT Vertical Lift Modules, which accommodate around 16,000 items.
When goods are needed for an order, they are picked by a forklift or manually by an employee to be packed at the workstations for shipping. All orders received before 3.30 pm are delivered to the service workshops the following morning. This is possible thanks to dense logistics arrangements with overnight deliveries.
"Swedish Agro is loyal to its customers in maintaining quality and promised delivery terms. Our installation has been able to grow and develop with new opportunities, in line with the spare part's expansion. We are very happy to lead this project and support Swedish Agro with a system to perfect their material flow," concludes Anders Jonasson, Sales Manager at SSI SCHAEFER.
With the new warehouse, Swedish Agro has strengthened their position by securing spare parts availability in the region and optimising their capacities. Martin Gerdtsson summarizes: "The main reasons why we chose SSI SCHAEFER were that we really felt from the beginning that they already knew our needs through past cooperation and, of course, they had a solution for storing spare parts with a wide range of dimensions."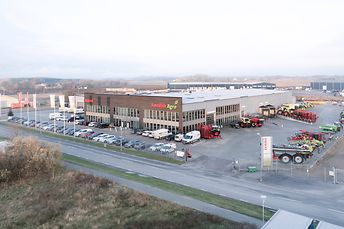 Swedish Agro Machinery AB's new central warehouse in Skåne Skurup ensures overnight delivery capability.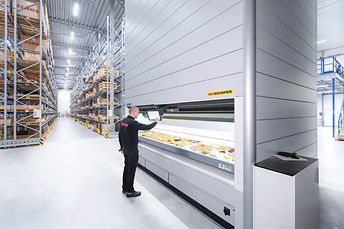 The two SSI LOGIMAT® Vertical Lift Modules ensures the ergonomic storage and picking of around 16,000 mostly smaller items.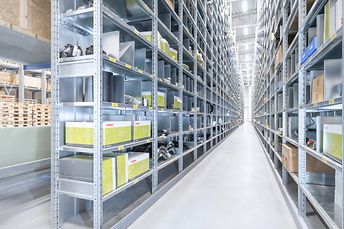 The narrow-aisle, which is set up with shelves, utilises the vertical space optimally.
Cantilever racks provide space for storing long and bulky goods.