DS AUTOMOTION honoured with IFOY Award 2023
ARCOS vehicle software combines AGV and AMR

Milestone in the expansion of mobile robotics within the SSI SCHAEFER Group
Neunkirchen, Germany / Linz, Austria – 4th July 2023.
DS AUTOMOTION, subsidiary of the SSI SCHAEFER Group, has been awarded the IFOY Award 2023 (International Intralogistics and Forklift Truck of the Year Award). In the category "Intralogistics Software", the vehicle software ARCOS convinced the jury and prevailed against the competitors: ARCOS enables AGV and AMR fleets for the first time to drive with variable zone-based fixed lane guidance, lane guidance with flexible avoidance as well as with free navigation using one vehicle software. The efficient solution can also integrate vehicles from other manufacturers via the VDA 5050 interface.
Wolfgang Hillinger, CEO DS AUTOMOTION, is pleased about the award: "We are proud to offer our customers worldwide state-of-the-art AGV and AMR solutions that help them master their logistical challenges and increase efficiency. A special thanks goes to our dedicated employees, who have contributed significantly to this success with their innovative strength and commitment." Steffen Bersch, CEO of SSI SCHAEFER Group, adds, "The IFOY Award is an important milestone for DS AUTOMOTION and for us within the SSI SCHAEFER Group. Together, we will further strengthen competitiveness and innovation in the fields of robotics and automation, which are trendsetting for intralogistics."
The IFOY Award honors the best intralogistics products and system solutions of the respective year. The products and solutions nominated for the finals by an international jury underwent various tests during the IFOY Test Days from March 27 to 29, 2023, including the IFOY test protocol comprising around 80 criteria and the scientific IFOY Innovation Check. A total of 23 jury members from 19 countries gave their assessment based on the test results. The awards were announced at a ceremony during the IFOY Award Night on June 22, 2023 in Dortmund. The IFOY Award is under the patronage of the German Federal Ministry of Economics and Climate Protection.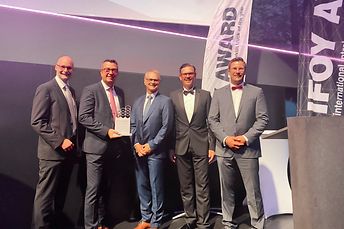 DS AUTOMOTION wins the IFOY Award 2023 with the vehicle software ARCOS. Ronald Lengyel, Head of Marketing DS AUTOMOTION, the Managing Directors of DS AUTOMOTION, Wolfgang Hillinger and Manfred Hummenberger, Steffen Bersch, CEO SSI SCHAEFER Group, Martin Böhmer, Vice President Global Technology at SSI SCHAEFER.