Automated Fulfillment for Convenience Store Distribution
A typical day at SSI SCHAEFER is quite busy. However, I was able to snag a few minutes for a candid chat with one of our retail experts.  Although this wasn't about grocery retail or a big department store, we're talking about the c-store distribution market. C-stores or convenience stores, as most of us know them, are retail, but the distribution is treated a bit differently. While the SKU count is slightly lower than traditional grocery, it can vary widely and run the gamut from frozen to ambient to high-value and heavily regulated goods.
New Automated Distribution Technologies for Complex Material Handling
Most distribution facilities for c-stores are either manual or semi-automated fulfillment centers. However, newer technologies have been proven to increase throughput, save on real estate costs, and save time during delivery, all while getting accurate fulfillment out the door. Warehouse automation is key for convenience retail because margins are tight, order turnaround needs to happen quickly, and warehouse optimization is a must. There are typically three critical priorities for the c-store market. First delivering high-quality product that is undamaged. Second, the need to keep labor cost low is a must. Finally, supply product quickly. Automation helps with all three of these and it becomes a competitive advantage.
Ryan Schaadt, a retail expert from SSI SCHAEFER, talks about the automated warehouse process starting with receiving or the goods-in protocol.  Ryan states that "when pallets arrive bundled with cases, there is a teach-in process that happens with each case and item.  Cases are automatically weighed and scanned for dimensions. This happens with an optical scanner driven by warehouse management software (WMS). This technology records everything into the system." The SSI SCHAEFER proprietary WMS solution is called WAMAS® and is considered a leading software solution by Gartner. Once scanned into the system, Schaadt states that "cases are then ready for depalletizaton and putaway based on product characteristics as well as items for each pick."
While convenience stores have a smaller footprint than a standard grocery store, it is still a competitive advantage to offer a large variety of SKUs to customers. As a result, having warehouse inventory stored extremely dense quickly becomes a priority for c-store suppliers Schaadt says that "Automation allows for a dramatically increased number of storage locations while using the same footprint, and that's huge. The extra locations mean retailers can provide a wider variety of SKUs, making them more attractive to potential end-user customers." While most convenience stores only have 3,200 SKUs per store, according to Convenience Store News, most c-store operators want to have the option to grow that product mix, but distributed products may vary based on location and the footprint of the storefront.
When asking Schaadt about storing high-value items like tobacco, he states, "each convenience store has an individual process on how they like to handle it. However, track and trace material handling technologies do come into play here. Each state or province has regulations, so a distribution center location may dictate procedures. For added security, most distribution centers have a vault, or a secure caged area built around a section of automated storage. Once data is captured into the system, items are automatically sent into that area for storage via a shuttle robot. Scanning is mandated on all incoming products. Maintaining unique IDs as pallets are broken down into cases and individual cartons is usually mandated.
The breakdown process may even happen inside the vault or caged area for added security. Manufacturers have already printed unique IDs on each box and carton. This allows for product traceability throughout the supply chain. And depending on the distribution location, these products are sorted and scanned based on state distribution for tax purposes. Items are picked in sequence so that they are batched and stamped by state and stored in appropriate secure totes.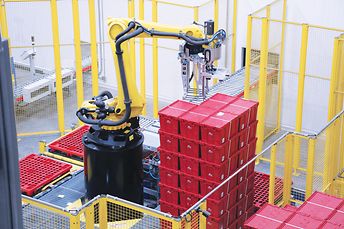 Once picked, these items are shipped with a band for added security and traced throughout the facility, truck number, and store location. The main driver of storing and distributing these products is to automate as much as possible and to be able to trace the entire process. These products are extremely regulated, meaning everything must be accounted for via placement, distribution, and sales." Tobacco products account for up to 35 percent of revenue, and it's easy to see why the process dictates added security and tracking.
For case picking, the teach-in process during goods-in now provides the database used for an optimized pallet pattern. Just as it sounds, the SSI SCHAEFER Pallet Pack Pattern Generator provides a stable pallet build that is optimized for long transport and volume optimization to save on costs. Optimized multi-stop pallets are a must, as c-stores rarely require a full pallet for replenishing stores.
The picking is done in reverse order for route optimization sequencing and considers frozen and chilled goods too. For example, freezer pallets are built first for the last delivery point and loaded into the truck's freezer section to optimize the pattern for delivery. The same is done for the chilled and ambient pallets in their respective areas of the truck. The entire order fulfillment process is orchestrated with less labor and efficiency throughout every process—now that's convenience.
https://www.convenience.org/Research/Convenience-Store-Fast-Facts-and-Stats/What-is-a-Convenience-Store
About the Author:
Ryan Schaadt helps customers navigate minimizing labor costs, increasing throughput capabilities, and addressing their unique needs within the retail logistics and food service industries. With his current position as Key Account Manager for SSI SCHAEFER, one of the leading automation and materials handling companies worldwide, Ryan collaborates daily with grocery retailers, convenience stores, food distributors, and 3PLs on how to provide real-life solutions in a competitive and rapidly changing industry. Ryan holds a B.S. in Design Engineering Technology from Trine University.