Robotics Solution Wins 2022 IFOY Award
Flat pack picking offers a unique, automated turnkey system solution from a single source to support efficient palletizing for furniture e-commerce and supplying branches. The concept, developed by SSI SCHAEFER together with Inter IKEA Group, Supply Chain Development, Intralogistics, has already been successfully implemented in Germany. The innovative solution won this year's IFOY Award (International Intralogistics and Forklift Truck of the Year Award) and took first place in the market comparison in the "Integrated Warehouse Solution" category. At the IFOY Award Night on June 30, 2022, the coveted IFOY Award was formally presented at BMW Welt in Munich.
The IFOY Award honors the best intralogistics solutions of the year. Suppliers were able to enter their products and system solutions into the competition online in a total of 13 categories. The products and solutions that the international jury nominated for the final round were subjected to various tests during the IFOY Test Days on March 18–23, 2022, including the IFOY test protocol, consisting of about 80 criteria, and the scientific IFOY Innovation Check. A total of 25 jurors from 19 countries gave their assessment based on the test results. The winners were finally announced in Munich during the IFOY Award Night on June 30, 2022.
SSI SCHAEFER and Inter IKEA Group, Supply Chain Development, Intralogistics, jointly designed the winning flat pack picking solution which was successfully implemented in the customer order distribution center located in Dortmund, Germany. Thanks to this fully automated system solution from a single source, IKEA now benefits from efficient palletization for supplying its branches. A total of four gantry robots handle large and heavy items, take over tasks with poor ergonomics to eliminate hard manual labor and ensure a constant, transparent material flow. The gantry robots and grippers were developed by RO-BER Industrieroboter GmbH, a subsidiary of SSI SCHAEFER. The intralogistics specialist received the IFOY Award in the "Integrated Warehouse Solution" category for its successful implementation.
"This project demonstrates how we approach our customers' challenges and work with them to develop and implement innovative logistics solutions for a more ergonomic work environment and greater productivity," says Notker Steigerwald, Head of the Logistics Solutions Business Unit at SSI SCHAEFER. "We're particularly happy about the IFOY Award, since it confirms the sustainability and future viability of our concept in a market comparison."
IKEA and its employees benefit directly from improved performance and automated processes. "Our cooperation with SSI SCHAEFER in this pilot project was also a thoroughly positive experience," says Julien Weiß, Automation & Design Leader at Inter IKEA Group, Supply Chain Development, Intralogistics. "In particular, the collaborative approach both companies embody helped contribute to the project's success." Inter IKEA Group reserves the option of rolling out the innovative system at other locations and IKEA markets. The flat pack picking solution is a promising approach for furniture e-commerce, but it can also be applied to other industries that handle large-volume and bulky goods such as windows or wood/metal blanks.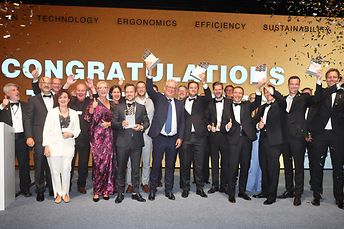 © IFOY AWARD