A Single-Piece Picking Robot for Maximum Performance Down to Every Second
SSI SCHAEFER is launching a fully automated piece picking system with numerous innovative features – the SSI Piece Picking application. This versatile solution, which includes a dedicated smart software, boasts advanced functions such as pick-and-place, object recognition using artificial intelligence (AI), a patented gripping point determination, and extremely gentle product handling. The intelligent robotic cell, which can combine with other SSI SCHAEFER components, was debuted in Stuttgart from April 25 to 27 at LogiMAT, Europe's leading material handling trade show.
Smart picking robots are becoming a permanent fixture in intralogistics. In addition to performance issues, other key reasons include rising labor costs, as well as a shortage of skilled workers. Furthermore, companies want to improve working conditions and reduce employees' workload. This approach has humans and machines work side by side with robots handling more and more of the repetitive, monotonous tasks. This achieves significantly greater picking performance alongside maximum picking accuracy and availability. "In these scenarios, it is our job to take advantage of our bundled know-how for continuous further optimization of our automation solutions according to market demand," says Peter Lambrecht, SVP Global Head of Sales, BU Logistics Solutions at SSI SCHAEFER. "From our customers' point of view, simple processes and ergonomics are crucial, while wanting to increase efficiency at the same time."
Tailored Piece by Piece to the Next Process Steps
SSI SCHAEFER already offers a fully automated, robotics-supported solution for single-piece picking that has been proven in practice and also meets requirements for zero-defect tolerance and end-to-end traceability of goods. But after a further development process, the SSI Piece Picking cell now does much more. SSI Piece Picking started through a collaboration with RO-BER, an SSI SCHAEFER Group company, and draws on bundled know-how from numerous customer projects. In addition to pick-and-drop, pick-and-place will also be implemented. This function guarantees gentle handling since each item is placed as close as possible to the bottom of the bin or carton. This feature prevents product damage, while precise placement allows optimal utilization of the filling level. A connection to an overhead conveying system is also in the works for the near future. The plug-and-play solution, which takes the form of a pre-assembled unit, can combine with manual workstations. In addition, the robot cell is ideal for use in connection with the SSI SCHAEFER energy-efficient conveying systems and flexible shuttle technology.   
Use Across Industries
AI-based object detection plus state-of-the-art gripper technology ensure that goods are gripped securely and placed gently in target bins or cartons. Instead of finger-shaped grippers, SSI Piece Picking uses smaller, compact suction cups that can reach every corner of a bin/carton, securely gripping even the smallest parts quickly. This function speeds up the overall picking process, and the speed can adapt to the specific product at the same time. Machine learning methods also enable the robots to gain experience with each pick and learn from it, creating a knowledge database available to all other robots. Thus, SSI Piece Picking is suitable for a wide-range of goods in manufacturing, e-commerce, retail and within the pharmaceutical and cosmetics industries, as well as for third-party logistics providers (3PL). 100% product verification is achieved through integrated scanning and weighing functions. During the picking process, the integrated AI is already able to detect, on the basis of single weighing, whether the correct items and requested quantity are picked. If unexpected events occur, such as a barcode that cannot be scanned, an automatic error correction resolves the issue without human intervention.
Highest Quality Standards Through Patented Technology
In addition, the read rate optimization implemented within the SSI Piece Picking solution via barcode detection increases process reliability. The patent-pending pick point optimization automatically shifts the gripping point and makes sure that barcodes are not obscured during picking, so they are scanned immediately. Thus, analogous to the GS1 specifications for code placement, the system is able to read at least 99.5% of the products directly on the first attempt. This increases pick rates while also following the read rate guidelines of the highly regulated pharmaceutical sector. Beyond advanced functions such as pick-and-place and pick point optimization, SSI Piece Picking boasts additional features. In the pharmaceutical sector, the system solution can handle 80% of the product spectrum, including goods in cubic, cylindrical, tubular and blister packaging, and the product range is constantly expanding to include additional formats.
AI Robotics as a Driver of the Digital Transformation
"Depending on the size, weight and storage method, we can pick up to 1,200 individual pieces per hour with our solution," says Peter Lambrecht. "SSI Piece Picking combines state-of-the-art robotics technology with clever machine learning in an intelligent overall system tailored not only to today's challenges, but to tomorrow's as well. This makes the highly innovative robotic cell one of the most powerful and versatile applications for automated single-piece picking." WAMAS Piece Picking from the WAMAS portfolio provides optimized control for material flows, as well as vision integration, and is responsible for the strong performance. No teach-in process is required, since only the typical host master data is accessed. In addition, the application can also connect to existing WMS systems.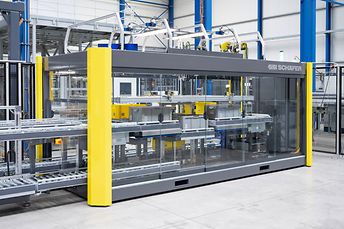 SSI SCHAEFER is launching a fully automated piece picking system with numerous innovative features – the SSI Piece Picking application.