Pharmaceutical Wholesaler Continues Technology Partnership with SSI SCHAEFER
A-Frame – Fully Automated Accelerated Error-Free Picking for Fast-Moving Pharmaceuticals
Supply quality and first-class on-site services are crucial if retail pharmacies are to survive in the face of online competition. Therefore, the role of pharmaceutical wholesalers is also significant – they need to ensure not only high product availability but also the fastest possible delivery. The company in this example has tailored its fulfillment concept precisely to these demands and implemented it with state-of-the-art technology from its long-term intralogistics partner SSI Schaefer. The latest highlight is the installed A-Frame with integrated product verification. This highly efficient, fully automated picking system provides up to 40,000 drug packages per hour during peak times on an order-by-order basis while meeting the high standards of the pharmaceutical industry.
With a collaboration dating back over 20 years, this full-service pharmaceutical supplier has equipped all its distribution warehouses with high-performance technology from SSI Schaefer. This was implemented, in part, through retrofit, conversion, and expansion projects without impacting ongoing operations. The spectrum of installations ranges from manual to fully automated warehouse and picking solutions, including tailored logistics software from the WAMAS portfolio. The SSI Schaefer Customer Service & Support includes on-site technical support as needed, alongside training and remote support.
Directly integrated and suitable for various packaging
Through the implementation of the A-Frame, the partners have once again strengthened a shared commitment by implementing automation. The picking system was integrated directly into the existing structures and has proven to be ideal for picking small, fast-moving packing units since it was commissioned in the second half of 2022. Example contents include headache pills, nasal sprays, and adhesive bandages. A key feature of the A-Frame is the product channels, which allow flexible configuration and are the conduit for software-controlled, error-free output for various packaging sizes, whether cylindrical or rectangular, in just seconds. The items are ejected from the A-Frame onto the conveyor belt, where special sections are each assigned to one order, and then move directly through the filling point into the order bins. The entire process takes just 60 seconds.
High-performance automatic picking system for order fulfillment
The technical performance that can be achieved – up to 40,000 products per hour – is also based on the solution approach of decoupling the picking and refilling processes. Employees refill the A-Frames during lower-load periods. The system then performs fully automated picking, accelerating processing and accommodating the zero-defect strategy. This reduces the staff's workload so they can be assigned other productive work within the distribution center, which optimizes resources. Thus, the A-Frame ensures fast processing – even for complex jobs and during load peaks. If sustained growth continues, the modular design of the system allows for an optional expansion and adaptation for new requirements.
Safety, speed, and efficiency as success factors
In addition, the A-Frame boasts a compact design that saves space, achieving especially high storage density on a small amount of floor space. The A-Frame can accommodate the majority of product assortment, comprising well over 120,000 pharmaceutical products. Automation also makes an important contribution to meeting the drug safety requirements associated with zero-defect tolerance and full traceability. But speed is also crucial. Pharmacies often lack sufficient storage space to stock a complete assortment of products, so they rely on on-time delivery of the quantity of drugs ordered. This pharmaceutical wholesaler closes this gap, enables a successful customer experience in the local environment, and strengthens the pharmacies' competitive position, while permanently reducing its own process costs.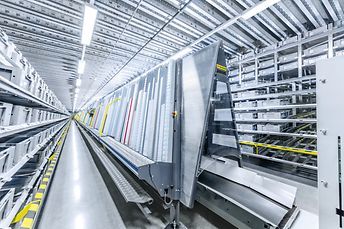 The A-Frame from SSI SCHAEFER is a compact picking system that can also be integrated into existing systems and achieves optimal space utilization through its high product density.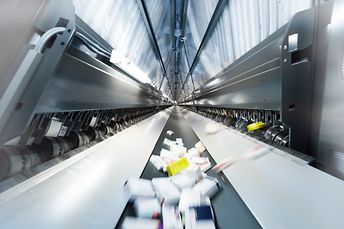 The A-Frame performs fully automatic picking for up to 40,000 products per hour and ejects them onto a collecting belt within seconds on an order-by-order basis.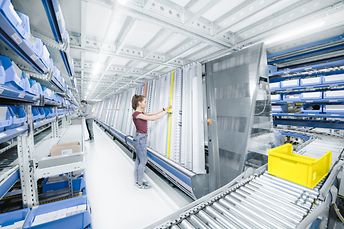 Employees refill the A-Frame during lower-load periods to keep it stocked for high throughput demands at peak times.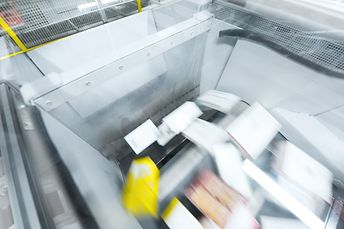 After being ejected onto the collecting belt for each order, the packing units are automatically transferred through a filling point directly to the corresponding order bins.