Managing Growth and Change Efficiently With Scalable Intralogistics Solutions
Expectations of logistics continue to grow, and the ability to respond consistently requires a high degree of agility and flexibility. Affordable plug & play solutions serve as the basis for easy integration into existing processes, and diverse expansion options ensure a high degree of flexibility, even for dynamic requirements in connection with ongoing expansion. SSI Schaefer is a family-run intralogistics specialist with a long history anchored in the SME sector, offering modularly combinable, scalable and reliable logistics systems in particular for small and medium-sized enterprises (SMEs).
According to a report by GTAI, around 20 million companies in Europe are classified as small and medium-sized enterprises as per the European Commission's definition of SMEs. Worldwide, around 95 percent of them are categorized as MSMEs (= micro, small and medium-sized enterprises[1]).
Changing Markets and Companies – Time for Something New
Consequently, SMEs account for a large share of global economic output. There is a reason for their reputation, given that family-owned SMEs in particular are regarded as extremely creative, innovative and quick to respond, steadily consolidating their reputation as the "engine of the economy." However, SMEs are also subject to persistent cost and competitive pressure. New retail concepts pose yet another challenge due to changes in consumer behavior. Explosively increasing expectations of maximum availability and the shortest delivery times are almost standard fare in the B2C segment but are increasingly shaping B2B business as well. Both these developments and continuous growth mean that the complexity of logistics is steadily rising.
SMEs in particular are feeling the effects of this. In the formative years, one-off shelves from the hardware store and/or open spaces are often all that is needed to stock goods. Companies expand, though, and the general conditions change. For example: Once order volumes increase, scrambling often becomes part of the day-to-day. Capacities are exhausted and products and/or components are simply placed wherever floor space is available, at least temporarily. Experienced employees may still have an idea of where the ordered goods can be found, but new employees quickly become overwhelmed. This significantly decelerates the pace of order processing, which increases process costs and can rapidly lead to declines in customer satisfaction. This also increases the risk of an exodus in conjunction with a drop in profits.
Growing System Modules for Every Phase of the Company's Development
From an economic perspective, planning and mapping out a very large intralogistics solution right from the start is often difficult, and this could significantly impair performance due to over- or even undersizing. The solution offered by SSI Schaefer is to provide this target group modularly designed, scalable storage and picking systems. The spectrum ranges from manual to (partially) automated systems that grow flexibly with the company's development and specific requirements. Practical basic equipment includes static racks that have been tried and tested millions of times and are quickly installed. They are good for saving space, allowing any size or type of product to be stocked. Increases in volume are often difficult to forecast in advance, but when they occur, installing new rack lines at any time can quickly compensate for this. Companies can thus adjust capacities to actual demand step by step. This is also the case with the plastic reusable containers currently in use, which are designed for volume-optimized storage of small parts and which can be gradually increased in number.
Smart Solutions From the Modular System – Benefits in a Nutshell
As expansion progresses, putting conventional solutions to the test is usually unavoidable. Companies that initially favor partial automation can also choose from a broad range of product options and combine specially suited logistics modules:
In the area of small parts handling, for example, vertical lift modules such as the SSI LOGIMAT® support the transformation. As a compact storage and picking machine, it needs up to 90% less warehouse space than static solutions. In addition, automated guided vehicles (AGVs) such as WEASEL® can be utilized at the same time. This combined solution ensures a constant material flow, can be seamlessly integrated into existing processes and can be networked with other modules such as static racks.
In the case of large load carriers, mobile racks are well suited to increase storage capacity by around 85% on unchanged floor space, as there are no aisles between the rack lines, and operating aisles are only opened when required. This module can also be perfectly combined with AGVs, while reducing the dependence on staff availability as well as forklift equipment.
Precisely Installed With Expansion Options Integrated
Powerful software is essential in this context. A custom-fit software application from the WAMAS® range of products enables companies to scale the desired performance as necessary. The plastic electroplating specialist C+C Krug is a good example of the successful outcomes that can be achieved. The positive sales performance prompted the fast-growing SME to realign its production-related intralogistics processes with the support of SSI Schaefer. A combined solution of SSI LOGIMAT® vertical lift modules, including the WAMAS® LOGIMAT software solution, container and carton conveying systems as well as automated guided vehicles with integrated fleet controller, has proven to be successful and reliable. The success story in numbers: 50% time savings for order picking and 90% increase in availability speed. Future expansions due to changes in general conditions and further growth were already accounted for in an early design phase, and now this option can be exercised at any time.
(Partial) Automation – Solving Increasing Demands With Flying Colors
Partial automation in combination with digitalization or powerful software is always a good alternative, especially for SMEs, when growth is dynamic and the demand for short delivery times and adherence to on-time delivery increase, particularly in online business. Especially in routine processes, this allows companies to save time and costs. At the same time, the delivery quality is significantly higher due to increased inventory transparency. All components should be scalable and variably combinable. As such, intralogistics solution packages tailored to the specific requirements of SMEs are available for every phase of business development.
The development of these packages has been driven by the many years of experience at SSI Schaefer, given that they too were once an SME that underwent successful growth. They know the challenges facing companies dealing with sustained growth – this is a crucial difference that sets them apart from their competitors, putting them in a position to provide optimum customized support with successively expandable solutions and to accompany and promote expansion as a reliable partner.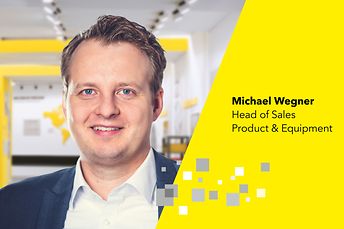 About the author:
Michael Wegner, Head of Sales Products & Equipment, Central Europe. Logistics Specialist with a Master's in Business Administration and has been employed at SSI SCHAEFER in various sales functions since 2012.
[1] https://www.gtai.de/gtai-de/trade/zoll/zollbericht/welt/kleine-und-mittelstaendische-unternehmen-kmu-msmes-in-der-wto-228530